Wedding Photographers in Alexandria, VA
Wedding Photographers in Alexandria, VA
If you are looking for things to do in Alexandria, VA, the options are endless. And if you are a bride looking for wedding venues in Alexandria, VA, then you are looking in the perfect area for a dream wedding.
Alexandria hosts some of the best wedding venues in the DMV (DC, Maryland, Virginia area).
If you have explored our website, you'll know that one of our personal favorites is the Athenaeum wedding venue in Old Town, Alexandria. The cobblestone alleyway shown in the wedding photo above, is a hidden gem in the area. It's tucked right behind the Athenaeum, and is a great place to have an intimate couples wedding session after their garden ceremony.
Check it out here: https://www.nvfaa.org/
Best Places For Wedding Photography in Old Town, Alexandria
However, there are so many other options for wedding photography in Alexandria, VA.
Here are some of our favorite spots to take our couples on their wedding day:
• Wilkes Street Tunnel: This semi-abandoned tunnel, covered in ivy, makes a perfect romantic getaway for a bride and groom.
https://www.alexandriava.gov/historic/info/default.aspx?id=41154
• Old Town Alexandria waterfront: A gorgeous waterfront, with all kinds of photo options. A favorite of ours, is the view of the Woodrow Wilson Memorial Bridge!
https://washington.org/visit-va/things-do-old-town-alexandria-waterfront
https://en.wikipedia.org/wiki/Woodrow_Wilson_Bridge
•Captain's Row- A STUNNING cobblestone road. Perfect for engagement or wedding photography!
https://www.washingtonpost.com/archive/local/1984/04/02/metropolitan-life-a-street-with-history/d7d2d17b-7fa7-4dd3-961a-f858dae5b118/
• The historic streets- Just walking up and down the streets of Alexandria, VA is the perfect way to find photography spots in the area. The ivy covered brick walls, the colorful doors, and cobblestone alleyways make for a perfect photo-op.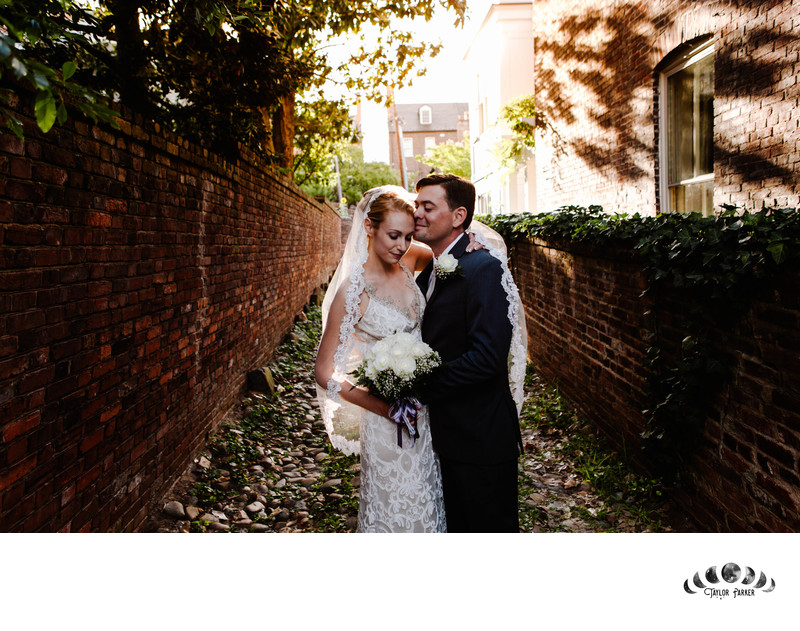 If you're interested in having your wedding in Alexandria, VA, learn more here:
https://www.visitalexandriava.com/weddings/
https://www.visitalexandriava.com/
Location: 201 Prince St, Alexandria, VA 22314.