Lions Gate Manor in Greenville, SC
Lion's Gate Manor
South Carolina Wedding Venue
The first time we walked into this space, our hearts seriously skipped one thousand beats.
Lion's Gate Manor was originally built in 1978, and is an English Country style house turned wedding venue. But to us, it truly feels like a hidden villa located right in the heart of Spartanburg, SC. It blew our minds that such a unique and elegant venue was right at our back doors.
The grounds are around 7 acres in total. When you first walk down the stone stairway, you enter to a gorgeous, in-ground pool (uhm, heck yeah bachelorette party!). You are led into a grassy courtyard, surrounded by oak trees, ponds and gorgeous floral gardens. But the showstopper is the ceremony space. In front of a GORGEOUS 65' waterfall, it is a breathtaking place to exchange vows.
Our Favorite Perks
• Bridal Suite
Their bridal suite might be one of the most impressive bridal prep areas we have seen yet. With floor to ceiling mirrors and seats tailored to hair and makeup, it's truly a perfect spot to get ready on the morning of your wedding. It also doubles as a wedding night suite, with a king size bed to crash in.
• Stone Benches in Ceremony Area
Of all the gorgeous decor on the grounds, the stone benches in the waterfall ceremony area are one of our favorite touches. They are STUNNING, and a perfect way to tie in the elegant feel of the entire venue.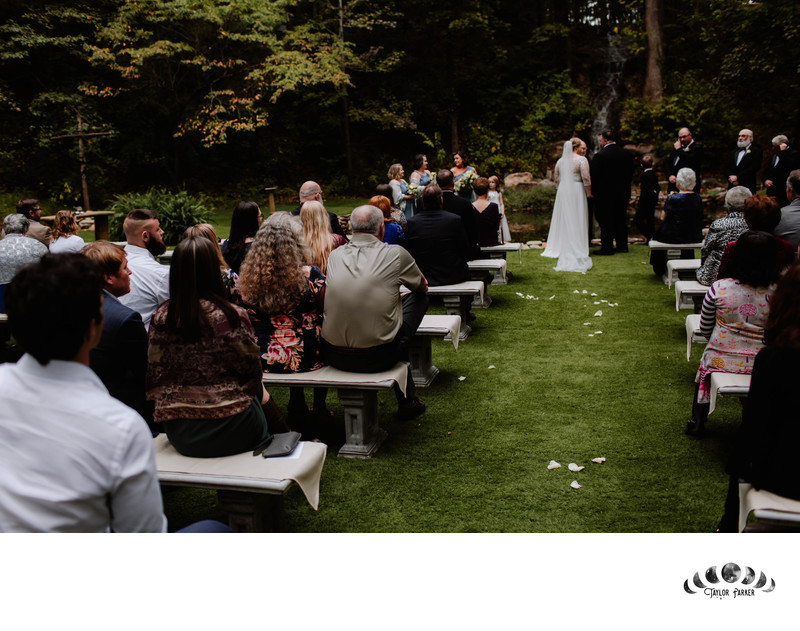 • Upper Dance Floor
This is our favorite spot for the first-look. The strung cafe lights and brick dance floor make for a gorgeous outdoor reception area. A first dance under the cafe lights at sunset is one of the most perfect details of the space.
• The Waterfall Wedding Ceremony
Did we mention the 65' waterfall as your ceremony backdrop? Because, IT'S INCREDIBLE.
• Stained Glass Window
The most popular area at Lions Gate Manor to take dress photos is the stained glass piece located on the garden pavilion. And rightfully so. Hanging a white wedding dress on this pop of vintage color is a great photo prop, and it's our go-to dress spot. Don't forget to bring your wooden bride hanger!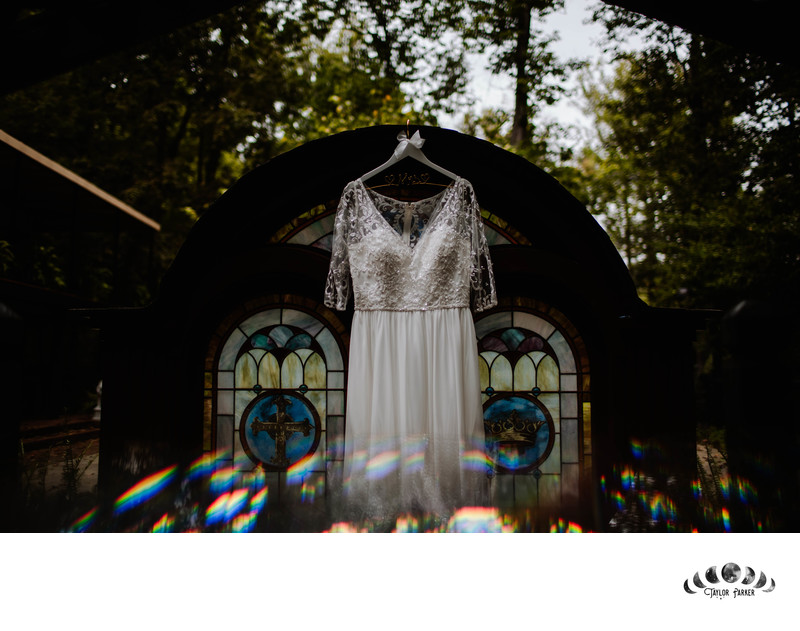 Book your wedding with Lion's Gate here:
Location: 651 Stewart Road, Spartanburg, SC 29306.